Merlino P.R.O.
PRODUCT CODE:

Description
Merlino is the Personal Remote Observatory of Avalon-Instruments. It is designed to be totally "user friendly", and it is current state of the art in providing you with a vastly more comfortable and efficient use of your telescope, allowing the photographic using from remote darker sky locations, when time is limited or weather conditions are uncertain.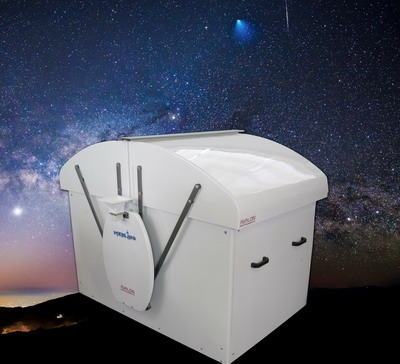 All made possible with a maximum of reliability & safety!
The main benefits of our design is its compactness and simplicity of use. Located inside is a PC, a router, and a dedicated electronic board that manages an entire series of sensors for complete control of your system, in terms of both functionality and safety. The system is controlled by a custom made software interface that allows the Merlino to be used in a mode very similar to a typical mobile setup. In fact, many commonly known software applications are integrated into the system, further increasing easy of use.
User-Friendliness is our #1 goal for your Merlino!
Thanks to its compact size, Merlino can be used in your terrace, your garden or nearly any available space. The internal 3G router connects your Merlino to a local area network (Intranet) or via the web (Internet). Of course, internet connection allows you to use your Merlino from a remote location. The Merlino is entirely powered by a 12 volt 18A battery, which allows it to promptly close the session and automatically recover in case of blackout. This feature enables Merlino to be installed in locations where there are no local power supplies, by using a solar panel energy setup.
The Merlino project was developed around the M-Uno Equatorial Mount, that solves most of the problems related to the management of a remote Observatory thanks to its special characteristics.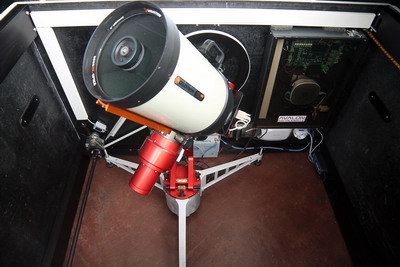 1) Dimensions: Merlino is offered in a Basic version, based on the M-One mount. External dimensions are 1.65 mt. x 1.20 mt. x 1.25 mt when closed, and 2.30 mt. x 130 mt. x 130 mt. in open mode. The total weight of the structure including the M-One mount is roughly 120Kg. (250 lbs).
2) The structure is made with anodized aluminum. The mount base is a short pier version, that can be connected with the Merlino structure by using an optional kit. This way, the observatory can be moved together with the installed mount if necessary, in case it will be necessary to move the observatory together with the mount, without disconnect the cables connection. The external protective cover is made molded of epoxy resin, and it has 25 mm (1") termal insulation. The finishing is a pleasing white color.
3) Installation of Merlino in your terrace or private garden does not require any permits. Transport is carried out with your Merlin mounted on a pallet, complete with all its features. The video below shows how easy it is Merlino home installation.

4) The structure of the single arm M-Uno mount allows you to avoid the annoying problem of the Meridian-Flip, thus making it possible to perform an entire imaging session without interruption and without pointing limits near the meridian. It is compatibility with several optics (NW 8 "/ F4, SC up to 11" RC up to 10 "/ F8; Refractors up to 4.5" / F6) or equivalent optical systems with size, and total weight of the set-up within 20kg (45lbs).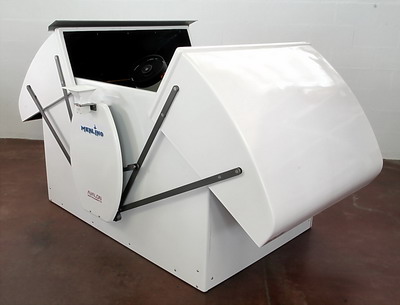 5) The M-Uno mount is an integral part of the Merlino and it has provision for passing all cables through the RA axis, consequently eliminating the risk of breaking or stretching them when the mount is moving.
6) Moving mass is greatly reduced (requiring perhaps only small counterweights to balance it), therefore reducing interior room required for slewing, as the telescope rotates virtually on its own axis.
7) The M-Uno mount requires extremely little maintenance, while maintaining consistent & excellent performance over time, thanks to the exclusive Fast Reverse technology, designed by Avalon Instruments and using special high precision toothed belts and pulleys, providing high reliability and durability
8) Polar alignment is adjustable by the use of two stepper motors, painstakingly adapted to allow fine polar alignment adjustments even via remote control (Optional Kit).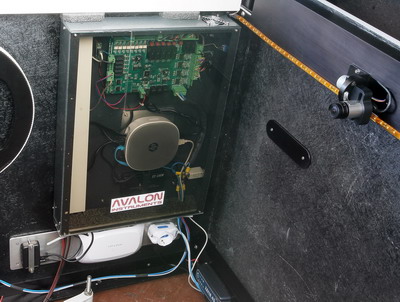 The Personal Remote Observatory " Merlino " can be fully remote controlled.

The Merlino enables you to schedule photo sessions using macros created directly by the user, using the macro editor provided as standard equipments.
This allows you to automate both the beginning (startup) and closing (shutdown) of various operations. The Merlino is able to autonomously shut down the system in case of unexpected events or problems, thanks to the included rain sensor, thus ensuring the safety and security of your system. It can be programmed to send you an alert via SMS. An optional alarm system GSM allows the alert in case of an attempted at forced entry.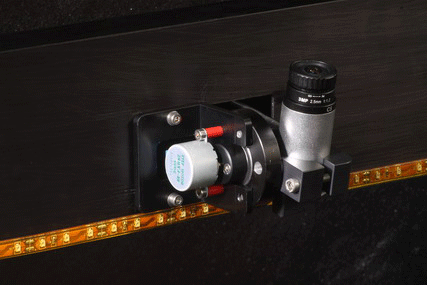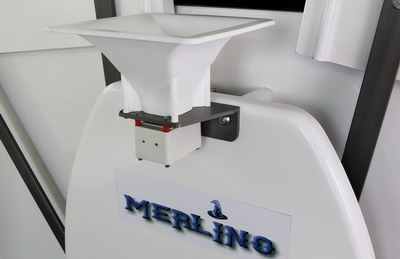 Monitored parameters
Temperature

Rain

Battery voltage

Internet connection

Total management control software

Quality of the autoguide star (during imaging)
Merlino comes standard with the following features:
Anodized aluminum structure with external cover, roof and panels, made of white color fiberglass.

Motorised open/close remote controlled mechanical shutter

PC with Windows software (in English language) for the Merlino

functions control (no keyboard, no monitor)




Electronic I/O control board (diagram attached below)

WiFi Router with 3G internet sim device input predisposition.

Motorized webcam for internal inspection and visual sky (rain) monitoring


Rain detector.

Software management system for P.R.O. Merlino and M-Uno mount

Insulated, internally wired electrical system

Power supply with 12VDC /18A battery & battery charger

English Instruction manual in English
Optional accessories
Low profile pier to support the M-Uno mount

Motorized system for Polar Alignment (drivers are already available on the E.board)

Automatic homing micro switch motor

Buffer batteries up to 120 Amperes according to specific needs.

Remote electric Focuser for Celestron optics HD 8 ", 25.9", 11" (direct StarGO control)
NOTE: The standard Merlino version is compatible with several optics. The system is optimized for to be used with the Celestron HD OTAs up to the C11HD. Other OTA configurations may require additional accessories and adaptations to be evaluated case by case. The system is delivered pre-assembled, except the telescope, CCD and related photography accessories.
The Merlino is a project that is patent protected. It can also be delivered complete with an optical and imaging system and delivered/installed directly at your desired location (quotations upon request). Consider your Merlino as the perfect investment that supports your passion for Astronomy, as the "All in one" system is intricately designed to maintain its value over time.