FOCS Focusers
FOCS is the new Avalon Instruments focuser easy to assemble and based on a belt system that has no play and that allows the manual focus adjustment also when the kit is mounted. FOCS is available for:
SC Celestron (C8, C9,5 and C11 models)
The new controller FOCS uses a stepper motor that allows high resolution positioning and can be controlled directly by the StarGo via the AUX1 port or by the new X-MD control system that allows a stand-alone functionality thanks to the integrated battery.
---
FOCS Focuser for Celestron C11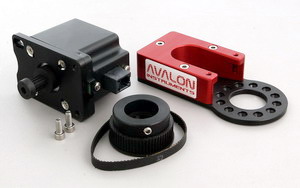 ---

Easy to connect. It can be simply used connecting on the StarGO aux port with the new Ascom focuser driver


---
FOCS Focuser for Sharpstar Telescope


---
FOCS for Feather touch focuser


---
FOCS Focuser for Skywatcher
FOCS for Skywatcher

---
EASY TO CONNECT
The kit can be used simply by connecting it to the port of the AUX1 Stargo using the cable supplied as standard. The FOCS have a driver ASCOM inserted in the Stargo drivers. It will be possible then to use the FOCS with third-party softwares (Maxim, TheSkyX, FocusMax, Sequence Generator Pro, BackyardEOS, etc etc).